In 1999, a group of people from the Mt. Carroll (IL) United Methodist Church traveled to Puerto Rico on a mission trip. (Click here for an account of that trip.) A year later the group began looking for a follow-up project and decided to focus on Haiti. Through Airline Ambassadors, the mission department of American Airlines, the group made connections with residents of Juampas, (pronounced "wum-pah"), a rural village.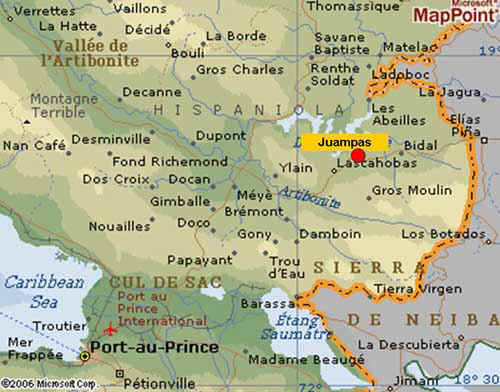 Juampas is located about 40 miles from Port-au-Prince, the capital of Haiti. Crews travel to Juampas either by truck or by bus. There is no running water in the village. There are some electric lines, but electric service is unpredictable. There is no regular telephone or mail service, though cell phone service is becoming more common.
Because of its location, the people are isolated from basic medical care. The main focus of CCHMP is the construction and staffing of a medical/dental clinic. The walls are made of handmade cement block and the facility features several dental and medical examination rooms, a pharmacy, an educational conference room, a storage area, a registration and waiting area and a shaded porch for additional waiting space. There are no "power" tools in Juampas; everything from mixing mortar to loading and unloading sand and gravel is done manually. The villagers assist with the project and continue working on it after the teams leave as long as money and supplies last. The completed facility is staffed by local medical personnel and visiting volunteer medical and dental teams from the U.S.
Secondary Project
During subsequent trips to Haiti, the missionary team was introduced to one-room school facilities in Loperon and Paredon, even more remote villages. Subsequent CCHMP teams have collected and distributed supplies for these schools which educate hundreds students of all ages.
The Teams
The first team of 12 people traveled to Juampas in March 2001. CCHMP teams travel to Juampas three times each year: in February, June and October. Teams are limited to 12 persons and have included all ages of people. Team members pay their own airfare and travel expenses, food and potable water while in Haiti, immunizations and passports.
Teams from the St. Paul Haiti Mission Project (SPHMP), CCHMP's sister group based at St. Paul's Episcopal Church in Dedham, MA, have also traveled to Juampas.
CCHMP has partnered with the Haitian Organization Program for Education and Health (HOPEH) to provide essential services to the Juampas area.
Fund Raising
Funds for the Juampas project have come from several different sources:
| | |
| --- | --- |
| | Annual Golf Tournament at Oakville Country Club, Mt. Carroll |
| | Annual Winter Fund-Raiser at Charlie's II, Mt. Carroll |
| | Luncheons before and after each trip, sometimes featuring a slide show |
| | Trivia Nights |
| | Personal donations + donations from many supporting organizations: Mt. Carroll Rotary Club, Mt. Carroll Lions Club, Carpenters Union Local 780 and the Illinois Sheriffs Association. |
| | Several people have included CCHMP in their funeral memorials. |
| | The group is looking for new fund-raising ideas. |
All money raised goes to the project; there are no administrative costs. Prior to a team leaving for Haiti, funds are sent to purchase construction materials, food and potable water.